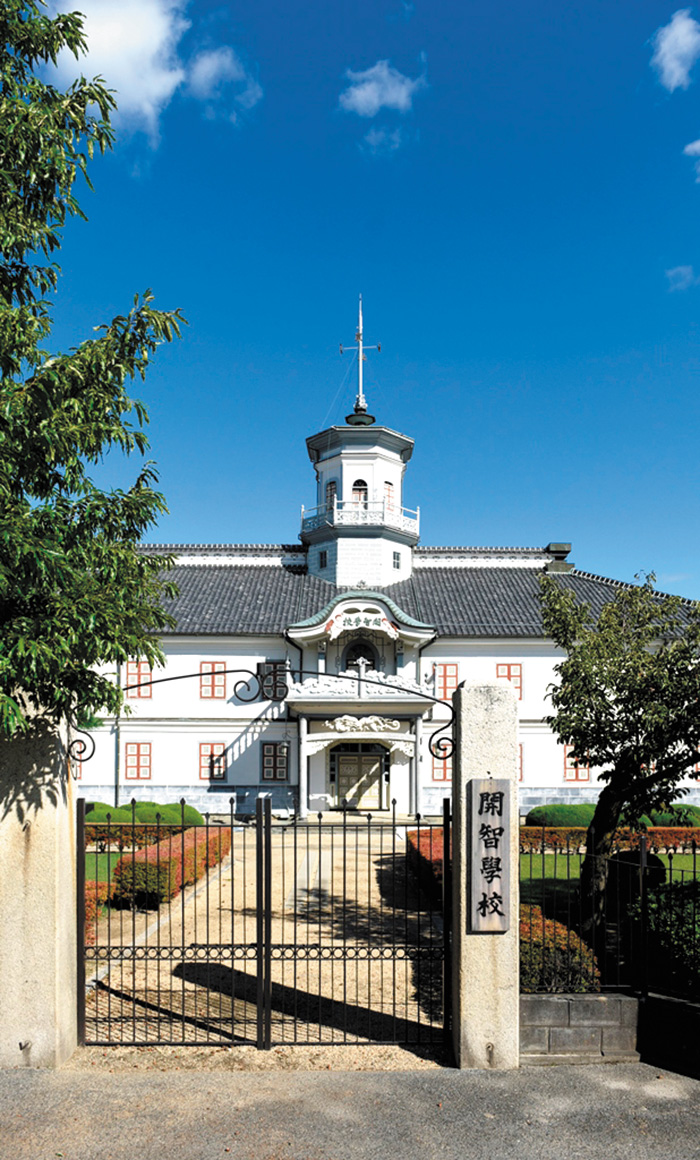 20
旧開智学校
Old Kaichi School
【国宝】
松本市開智2丁目4-12
屋外展示
建築年 明治9(1876)年
移築年 不明
設計者 立石清重
施工者 立石清重
旧開智学校に代表される「擬洋風建築」は、大工たちが伝統技法を用いて創意工夫で築いた「和風とも洋風ともつかない摩訶不思議な西洋館」で、明治初期に多く建設された。中でも旧開智学校は、校舎の写真が万国博覧会で紹介されるなど、日本の文明開花を象徴する建物として高い評価を得ている。
設計、施工に携わった棟梁、立石清重(たていしせいじゅう)は、城下町松本に代々続く大工の家に生まれ、幕府の仕事から神社仏閣、庶民の町家まで幅広い仕事を請け負っていた。校舎建設に先立ち東京や横浜で、当時最新だった洋風建築の情報を収集したという。
外壁の出隅部や腰壁は左官技術で石積みを表現し、塔屋にはステンドグラス風に色ガラスを採用。車寄せ部分は竜や瑞雲など神社仏閣を思わせる彫物を施すと共に、唐破風屋根には東京日日新聞の題字部分を真似た天使を彫り込み、校名を記した巻物を広げたデザインにした。他にも、バルコニー奥の鋳鉄細工を模した塗装、板目をペンキで描いた板戸、風見柱を持つ塔屋など、建物全体に装飾をあしらった。
明治9(1876)年に女鳥羽川近くに建設された校舎は、昭和38(1963)年まで同地で学校として使われ、その後現在地に移築。令和元(2019)年に近代の学校建築としては初めて、国宝に指定された。
---
Year of construction: 1876 (Meiji 9)
Year of relocation: Unknown
Architect: Seiju Tateishi
Builder: Seiju Tateishi
[National Treasure]
"Pseudo-Western architecture", such as the former Kaichi School, is a "mysterious Western-style building that is neither Japanese nor Western", and was constructed by carpenters using traditional techniques and ingenuity. Many of these buildings were constructed in the early Meiji period. Among them, the former Kaichi School is highly regarded as a building that symbolizes the flowering of Japanese civilization, as a photograph of the school building was introduced at the World Exposition.
Seiju Tateishi, the master builder who was involved in the design and construction of the school, was born into a family of carpenters who had been working for generations in the castle town of Matsumoto, and had undertaken a wide range of work, from work for the shogunate to shrines and temples, as well as town houses for the common people. Prior to the construction of the school building, he went to Tokyo and Yokohama to study Western-style architecture, which was the latest at the time.
The plastering technique was used to create masonry on the exterior walls, and colored glass was used in the tower building to create a stained glass effect. The porch is decorated with carvings of dragons and clouds reminiscent of shrines and temples, and the roof is carved with an angel imitating the title logo of the Tokyo Nichinichi Shimbun newspaper and a spread out scroll with the name of the school written. Other decorations were applied to the entire building, such as the painted cast ironwork at the back of the balcony, the painted board door, and the tower building with its weatherboard pillars.
The school building was built near the Metoba River in 1876, and was used as a school there until 1963, when it was moved to the current location. In 2019, it became the first modern school building to be designated as a national treasure.